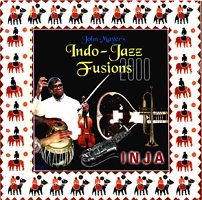 'I.N.J.A.'
John Mayers Indo-Jazz Fusions
INJA FMR Records FMR CD 69
Chrissie Murray - JAZZWISE. September.2000
* * * * Recommended

Rarely, if ever, does violinist-composer John Mayer get due credit for his groundbreaking work in Indo-jazz fusion. Mayer did it first, and he did it here, easing the way for Ravi Shankar's later headline-grabbing collaborations with The Beatles, John McLaugghlin's flights of fantasy with the Mahavishnu Orchestra and Shakti, Alice Coltrane's monumental epics of the 70s right up to the nu-fusion of today's young Asian movers 'n' groovers such as Trilok Gurtu, Nitin Sawhney and Talvin Singh.
In the mid-1960's, John Mayer, a young violinist with the Royal Philharmonic, seriously challenged the conventions of the day by bringing together a double quintet which dared to play a new music - an innovative mix of Western classical, Indian folk themes and free-jazz stylings. The 'Indian' side comprised Mayer (violin/harpsichord), Diwan Motihar (sitar), Chris Taylor (flute), Keshav Sathe (tabla) and Chandrahas Paigankar (tambura) alongside the 'jazz' component- Joe Harriott (alto), Eddie Blair (trumpet), Pat Smythe (piano), Rick Laird (bass, later to work with the Mahavishnu, of course) and Alan Ganley (drums). With Harriott's early death in 1973, the group disbanded. But four years ago, Mayer creared a vibrant, energetic, new Indo-Jazz Fusions group to play a pile of dynamic new charts. Drawn from some of our brightest young music students, the band today includes Mayer's son Jonathan, himself a gifted composer and an inspired sitar player (traditional and electro-acoustic).
Inja (the title track is a new Kenny Wheeler tune) is Mayer's third new Indo-Jazz Fusions album and best so far. Partly sponsored by the Birmingham Conservatoire, the music has at last got the treatment in the studio it deserves.. The interwoven patterns and cross-rhythms of mayer's 'Ganga Ma', 'Bandish', 'Gaud-Sarang' and 'Acka Raga' (written originally for Acker Bilk, would you believe) certainly evoke the spirit and feel of the old Indo-Jazz line-up and, indeed, 'Subject@ is a touching tribute to the much-loved Joe Harriott. Mayer's interesting 'Vasant Mukhari', incidentally, is based on the classic Indian raga which was taken to Spain in the form of the Maquam (Arabic scale) Hijazi where it evolved into Andalusian flamenco. Fascinating stuff. And if you get the chance to see this wonderful group live, don't miss them. Go and see for yourself how history was made.
back to top