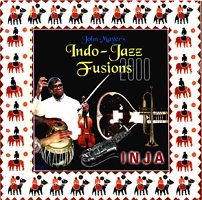 'I.N.J.A.'
John Mayers Indo-Jazz Fusions
FMR FMRCD-V0400
Peter Bacon - Birmingham Post. 19th August.2000
Back in the early 60's, violinist and composer John Mayer started to develop the idea of mixing the traditions of jazz and Indian classical music and four decades later, it might not sound so ground-breaking but it's clearly just as fertile a field for musical endeavour.
There is little conflict between jazz and Indian music in its improvisational and open-ended nature and time signatures in modern jazz have moved away from the constant 4/4 of old; the difficulty comes in combining the conventional scales of jazz with the micro-tones of the Indian scales.
To a certain extent, Mayer lets the melodies and harmonies stay firmly in the jazz camp, while rhythmically the tabla rules but it would be easy just to have musicians improvising freely over the sound of the sitar and tabla.
What Mayer achieves is something far more complex and interesting - by working out complex ensemble arrangements, he keeps the conversation between the two styles constantly evolving and with very satisfying results.
Trumpeter Kenny Wheeler, who was in on Mayer's early experiments, contributes the title tune for this CD, with the rest being supplied by the band which, aside from Mayer, is a very young one indeed.
This project is partly sponsored by Birmingham Conservatoire and Mayer remains one of the city's unsung heroes as a keeper of its heritage.
back to top