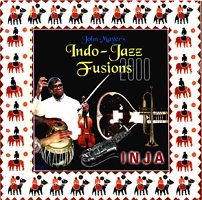 'I.N.J.A.'
John Mayers Indo-Jazz Fusions
FMR FMRCD-V0400
Roger Thomas - JAZZ REVIEW / Issue 11. August 2000
"Ah yes, this must be some of that wonderful 'crossover music' which an increasingly desperate record industry keeps trying to flog to the Robbins Report generation, eh cats? Well, my perception of a crossover audience is one which, disillusioned by all this music which attempts to be so many things that it ends up being nothing at all, simply crosses over to the pub during the interval. And stays there. What an immense relief it is, then, to find that John Mayer's legendary group is alive and better than ever.
The genesis of Indo -Jazz Fusions in the sixties is of course a landmark in the history of Britjazz. The group was formed by Mayer and the legendary Joe Harriott, each coincidentally representing non-indigenous cultures which were even then adding new perspectives to British music, and recorded a couple of LP's which became highly sought-after. For some listeners the story ended there; others kept tabs on this captivating music, noting the reissue of the LP's, its subsequent appearance on CD and, along the way, the two CD's which the group recorded for Nimbus.
The overriding factor, however, is the joy-inducing realisation that the group got it right to begin with and have simply gone on getting it righter and righter, its evolving roster of personnel simply adding to, rather than diluting, the group's originality. Mayer in particular has long been one of the few musicians whose grounding in both Indian music and the various musical traditions of both the USA and Europe has been genuinly watertight, if I'm allowed to mix metaphors. This has meant that the 'fusion' takes place in a context of genuine musical integration rather than at the superficial level which the likes of Shiva Nova settled for when, for example, they acquired Orphy Robinson as a collaborator. For many others who have attempted to develop the form, it's been a road paved with good intentions but leading nowhere.
This CD, however , is absolutely the right stuff, being once again exactly what it appears to be - a powerful, elegant, frequently witty and technically masterful undertaking which explores and, crucially, extends the ways in which jazz and Indian music are genuinely at home with each other. It's worth buying this disc just for the woodwind riff on the opening track, or for the composition contributed by I-JF veteran Kenny Wheeler, or even for "Acka Raga", the jolly encore piece at the end of the disc which Mayer wrote for Acker Bilk and which the elderly will also recall as the theme music for one of Robert Robinson's television shows. Interestingly, a press release relating to a different group altogether has just hit my in-tray, in which 'Indo-Jazz fusion' is offhandedly referred to as an identifiable musical genre. Hmm..."
back to top